Separation Day – Delaware's 240th Independence Day!
Date Posted: Thursday, May 26th, 2016

Separation Day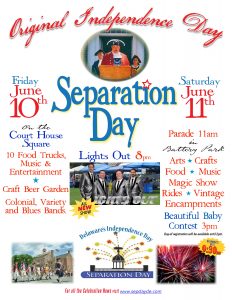 Friday, June 10th & Saturday, June 11th
Delaware's 240th Independence Day!
Website
Please Join us for the Separation Day Parade, as New Castle hosts Delaware's 140th Birthday.  
Saturday, June 11th
11:00 a.m. – 12:30 p.m.
Then enjoy all the festivities in Battery Park, and throughout the City.
ALL SCHEDULES ARE SUBJECT TO CHANGE!
Friday, June 10th: (Courthouse Square)
ACTIVITIES
5pm to 9:30pm: Craft Beer
5pm to 10pm: Food Trucks
Live Music and Entertainment
ENTERTAINMENT
5pm to 5:45pm: Colonial Music by 1st Delaware Regiment
6pm to 10:00pm: Big Package Band (Funk/Dance)
During Music Breaks: DJ American Pie Entertainment
Saturday, June 11th: (Battery Park)
ACTIVITIES
10am to 6pm: Arts and Crafts Festival
11am: Parade down Delaware Street
10:30am to 9pm: Entertainment Variety
10:30am to 6pm: Food Vendors
12pm – 5pm: Pony Rides & Petting Zoo
2pm: Two by Fours Square Dance Club Demonstration
2pm: Registration for Beautiful Baby Pageant ENDS
3pm: New Castle Jaycees Beautiful Baby Pageant
DEMONSTRATIONS(Not Inclusive)
Sheep Shearing
Reenactments
Square Dancing
Pony Rides
Petting Zoo
ENTERTAINMENT
1pm to 8:00pm: Amusements & Games
4pm: Magic Bob (Magician)
6pm: American Pie Entertainment Dance Party
8pm to 9:30: Feature Concert –Lights Out – Generations of Music (BRAND NEW SHOW)
9:30pm: Fireworks!!!