Public Works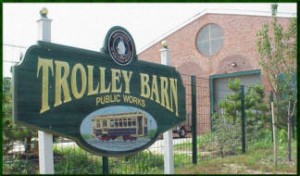 The Public Works division is the largest division of the Public Services Department, employing 11 full time positions. Public Works is supervised by Public Works Supervisor George O'Neal. The Public Works division is responsible for the operation and maintenance of more than 20 miles of the City street system, plus solid waste collection at each City property three times per week: Mondays & Tuesdays: trash; Wednesdays: yard waste; Thursdays and Fridays: recycling. In conjunction with the Trustees, Public Works personnel maintain approximately 130 acres of parks and open space.
Additional services provided by Public Works include fall leaf collection, street sweeping, grass cutting, pavement marking, drainage maintenance and numerous other services to enhance the quality of life for the residents in the City of New Castle.
Seasonally, snow and ice control services are provided. During larger snow events, residents are requested to remove their vehicles from the street to allow for easier and more efficient snow plowing operations.
Maintenance of roadways and traffic and street signage are important tasks and we enlist the assistance of the general public in reporting conditions such as potholes or damaged street or traffic signs by calling 322-9813 or provide the information via email.
Department Roster:
George O'Neal – Supervisor
Keith Wilson – Foreman
Clifford Reaume – Equipment Operator
Wayne Cooper – Equipment Operator
Forrest Reiss – Mechanic
Gary Holmes – Laborer
Robert Ford – Laborer
Allen R. Cahall – Laborer
Brent Hurd – Laborer
James Pankowski, Jr. – Laborer
Special Trash Pick Up:
Large and/or bulk items, such as refrigerators, dishwashers, TV's, sofas, etc., require a special trash pickup fee.You may request a special trash pickup by calling 322-9801 or send an email message.
Special Trash Pickup Fees:
Refrigerator – $40.00
Dishwasher – $35.00
Stoves – $35.00
Washers – $35.00
Dryers – $35.00
Air Conditioners – $30.00
Hot Water Heaters – $30.00
Sofas – $25.00
Upholstered Chairs – $20.00
Mattress/Bed Springs
Single – $20.00
King/Queen – $22.00
Rugs & Carpets (per room charge) – $20.00
TV Set with Cabinet – $20.00
Dressers – $15.00
Barbecue Grills – $10.00
Sleeper Sofas – $35.00
Building and Public Works counter services, including Special Trash Pick up forms, are available at the City Administration Building at 220 Delaware Street.
Office hours are 8:30-4:30 Monday-Friday. Contact Public Works at 302-322-9801.
All fees stated above, once paid to the City, are non-refundable. Please call the Public Services Department at 322-9801 to receive an estimate to have construction and remodeling material picked up. Tree limbs and yard waste removal is free (collected City-wide on Wednesdays).