How to play Pokémon GO safely and politely in the City of New Castle, Delaware More Info
Separation Day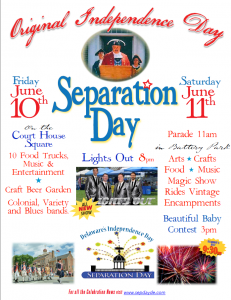 Separation Day
Friday, June 10th & Saturday, June 11th
Delaware's Independence Day!
Friday Night on the Courthouse Square
10 Food Trucks, Music & Entertainment
Craft Beer Garden
Colonial, Variety & Blues Music.
Saturday Parade & Battery Park
Parade at 11 a.m.
Arts & Crafts in the Park, Food, Music, Magic Show, Petting Zoo, Pony Rides, Vintage Encampments, and much more!
American Pie Entertainment, Lights Out Music Concert at 8 p.m.
And Fireworks at 9:30 p.m.