Covid-19 Information: Testing Dates & Sites, Updated Vaccine Information, and Volunteer Opportunities
Date Posted: Wednesday, April 7th, 2021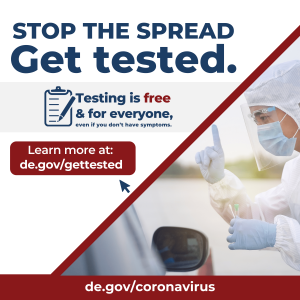 Flyer for Fixed Testing and Pop-Up Events for week of 05/10/2021

Additional locations may be added throughout the week. Visit de.gov/gettested for the most current list of locations.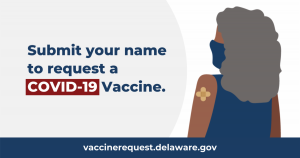 Find out where you can be vaccinated
Where can I get it?
Pharmacies – View a list of major chain and some participating pharmacies at de.gov/pharmacies. Pharmacies have their own waitlist and scheduling systems separate from the state's system.
State of DE vaccination events – Sign up for the state waitlist at vaccinerequest.delaware.gov. Don't have computer access? Call the DPH Vaccine Call Center at 1-833-643-1715 or email vaccine@delaware.gov. Invitations for vaccination appointments are based on age and other health risk factors. Invitations may be for drive-thru events or indoor events, including those operated by our partners Curative or Vault Health.
Medical Providers (includes primary care offices, specialty providers, Federally Qualified Health Centers, and hospital systems) – call your provider for an appointment. If they are not vaccinating patients, they will provide your name and contact information to a health care system which will contact you to schedule an appointment. Providers are asked to use their clinical judgment to continue to prioritize persons with high-risk medical conditions, including disabilities.
Community-based events – Many community-based organizations partner with the state, a pharmacy, hospital system, or other medical provider to provide vaccination opportunities to people at the local level, especially those who may find it harder to access technology to sign up for the state's waitlist or travel to a pharmacy. Sign-ups for these events are coordinated by the community organization directly and not widely publicized online to ensure they are reaching underserved people in our state.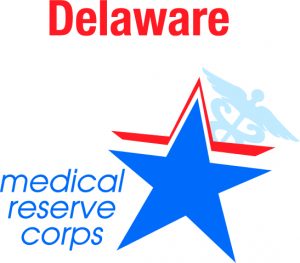 Help Delaware in the fight against COVID-19. Sign up to volunteer with the Delaware Medical Reserve Corps.
In addition to medical professionals, members of the public can volunteer with the Medical Reserve Corps to help register Delawareans for vaccinations, manage traffic at vaccination sites, and process data.
Click here for more information about volunteering with the Medical Reserve Corps.