Meetings & Events
National Night Out in Battery Park
08/02/2022 - 06:00 PM
Location: Battery Park
Address:
New Castle

National Night Out
Tuesday, August 2nd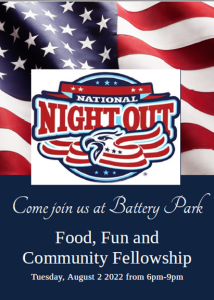 Battery Park
6 p.m. – 9 p.m.
National Night Out is an annual community building campaign celebrated across the Unites States that promotes police-community partnerships and neighborhood camaraderie.
National Night Out enhances the relationship between neighbors and law enforcement while bringing back a true sense of community. Furthermore, it provides a great opportunity to bring police and neighbors together under positive circumstances.
 New Castle Police/Child ID Kits
The New Castle City Police will be offering child fingerprint ID kits. The kits are completed at home, so  the information is completely confidential.  The fingerprints are kept by the parents or guardians in the event this important information is ever needed.
Good Will Fire Apparatus – Games – Food – Fun
Music by American Pie Entertainment/Paul Freebery
Hot dogs provided by New Castle Hundred Lions Club