Meetings & Events
The Tall Ship Lynx is in New Castle
10/12/2018 - 12:00 AM
Location: Delaware Street Wharf
Address: 1 Delaware Street
New Castle, DE 19720

Date Posted: Tuesday, October 2nd, 2018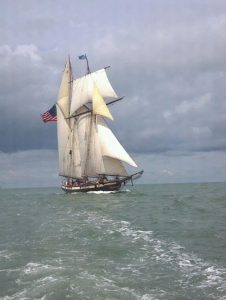 The City of New Castle is pleased to announce the first voyage of The Privateer Lynx tall ship to New Castle! The Tall Ship Lynx is proud to be open to the public for free deck tours and by paid reservation sailings at the City's pier beginning Thursday, October 11th through Sunday, October 14th.
Tall Ship Lynx deck tours are Thursday 5:00 – 7:00 p.m., Friday 1:00 -3:00 p.m., Saturday 10:00 a.m. – 1:00 p.m. and 4:00 – 6:00 p.m.,
Tall ship sails from the City's new pier at Battery Park on the Delaware River. Sails are approximately 2 hours long.
Friday evening sail and dockside sea shanty is 5pm-7pm. $50 per person.
Family-friendly afternoon sails are Thursday, Saturday and Sunday 2-4pm, $50 for adults and $35 for seniors $25 for kids, featuring live cannon fire, sea chanteys, and history and storytelling from the War of 1812.
On Saturday, October 13th the City of New Castle is pleased to present a Special Evening at the Arsenal with Captain Donald Peacock of the Lynx and Nantucket Troubadour Bill Schustik from 7:00 p.m.- 9:00 p.m. An exceptional evening of music from American Heroic Age blended with Nantucket's extraordinary history from the War of 1812 and the Battle of Nantucket. Cash wine bar. Tickets are $65

For tickets and ship information visit the Lynx website.
Please check back for more information here "City Website" and on "City's Facebook page" for various local merchant and restaurant specials for Lynx ticket holders, too!