National Night Out
08/01/2017 - 06:00 PM
Location: Battery Park
Address: 51 W 3rd St
New Castle, DE 19720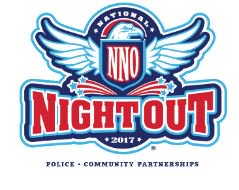 "National Night Out is an annual community-building campaign that promotes police-community partnerships and neighborhood camaraderie to make our neighborhoods safer, more caring places to live." – NNO Website
The City of New Castle will be participating in National Night Out 2017 on August 1, 2017, from 6 p.m. – 8 p.m. in Battery Park. The theme of this year's event will be drug addiction/prevention. NNO brings community leaders and citizens together with our local public safety entities for conversation and determination to stomp out crime in our city. Participation from local groups can range from cooking hotdogs to organizing games for kids.
Please feel free to check out NATW.COM for additional ideas and information about NNO. We are in the running for the "Rookie of the Year" award. We need all of our local groups and citizens to participate to make this a great first year with NNO for the City of New Castle.
If your neighborhood or social group would like to participate in NNO, please contact Councilperson Valarie Leary at VLeary@newcastlecity.com or Detective Tina Shughart at tina.shughart@cj.state.de.us.