A Day in Old New castle
05/19/2018 - 10:00 PM
Location: Downtown Historic New Castle
Address:
New Castle, DE 19720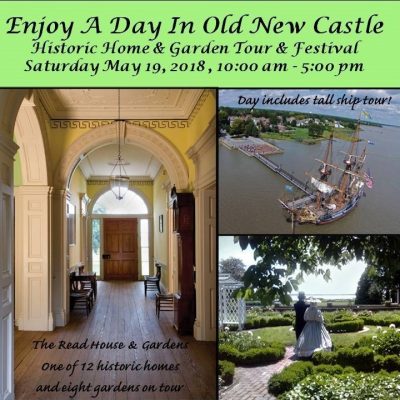 A Day in Old New Castle* (Third Saturday in May)
2018 Theme: Life on the River
Friday, May 18, 2018 Reception on the Kalmar Nyckel
Saturday, May 19, 2018 House and Garden Tour with additional activities throughout the City.
Throughout Town; Tickets available online and at New Castle Courthouse 211 Delaware Street, New Castle DE
A Day In Old New Castle, America's Oldest Home & Garden Tour, is back for its 94th year with a special guest – Delaware's Tall Ship, Kalmar Nyckel!
Sponsored by the Community Partnership; www.historicnewcastle.com or call 302-323-4453.
Friday, May 18th 6:00 – 800 p.m.  Join us for a sunset celebration commemorating the return of the Kalmar Nyckel to Historic New Castle.  Come enjoy an evening at the Wharf, sipping wine, enjoying hors d'oeuvres, and enjoy sitting on the Kalmar Nyckel while the sun sets over the Delaware River from your spot on the ship.   You can't have this experience anywhere else on the Coast of Delaware.  Last year the event sold out, so don't miss out and get your tickets early. Proceeds benefit the Kalmar Nyckel Foundation. (Tickets $25.00)
Saturday, May 19th, 10:00 a.m. – 4:00 p.m. Don't miss the 94th Annual A Day In Old New Castle on Saturday, May 19, 2018, as we embrace the important role the Delaware River has played in our town's history. We are proud to continue the tradition as America's oldest home and garden tour, and this year, we are thrilled to welcome a special guest – Kalmar Nyckel, Delaware's Tall Ship! (Adult Tickets $25.00)


Take a look at 2018's schedule of Events!


(Revised For Weather)

9am-5:45 pm Shuttle buses from parking area to Court House NC (First) Baptist Church of DE Last bus leaves Delaware St. at 5:45
9am-5pm Ticket and Information Booth Open  Plaza of Court House
10am-4pm Houses and Gardens Open     See Map
10am-5pm Encampments, Reenactments, Demonstrations
Winterthur Children's Activity Table – New Castle Presbyterian Church Hall
Read House Flower Sale – Read House
New Sweden Center – New Castle Presbyterian Church Hall
Face Painting, Annabelle's Treasures – New Castle Presbyterian Church Hall
10am-4pm Historic Churches Open for Tours:
New Castle United Methodist, Immanuel on the Green (2:30 close), 
New Castle Presbyterian 
Kalmar Nyckel open for tours New Castle Pier

              TIME                                             ACTIVITY                                                     LOCATION

10-10:45 am                        Immanuel Church Bell Ringers                         Immanuel Church
11:30-12:30                          Serenata Strings Quartet                                     Read House
12-4pm                                 Beer Garden – Wine and Beers from Yards Brewery    David Finney Inn
12:00-12:30 pm                  Historical Swedish Trial                                       Court House
12:30-1:30 pm                    Fiscal Year Jazz Trio                                              David Finney Inn
1:30-2:30                             Serenata Strings Quartet                                      Read House
2:00-3:00                            Fiscal Year Jazz Trio                                              David Finney Inn
2:00-2:45                            Delaware Music School Suzuki Violins              Court House
3:00-3:30                            Historical Swedish Trial                                        Court House
4:00                                      Houses/Gardens- Kalmar Nyckel Close
4-5:00                                  Evensong Immanuel Church