Separation Day & Colonial BBQ
06/08/2019 - 11:00 AM
Location: City of New Castle
Address:
New Castle, DE 19720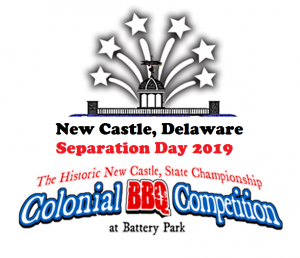 Separation Day Parade
Saturday, June 8, 2019 starts at 11 a.m. in historic New Castle
The Separation Day Parade is known for being one of the most charming and entertaining parades in Delaware. Re-enactors, bands, dance teams, classic cars, sports teams, mascots and a string band participate in a judged parade that proceeds along Delaware Street into Courthouse Square.
Colonial BBQ Competition and Separation Day Festival
Saturday, June 8, 2019 starts at noon in Battery Park
Gates open at noon (immediately after Separation Day Parade) so come on in for great live music, arts & crafts, vendors, kids rides and attractions. BBQ and chicken wings will be for sale! In addition, New Castle-based nonprofits will be offering a wide variety of food and drink items (hamburgers, hot dogs, sausage and peppers, funnel cake and more!). The proceeds will benefit their organizations.
More information will be posted as it becomes available.