Meetings & Events
Separation Day & Colonial BBQ
06/08/2019 - 11:00 AM
Location: City of New Castle
Address:
New Castle, DE 19720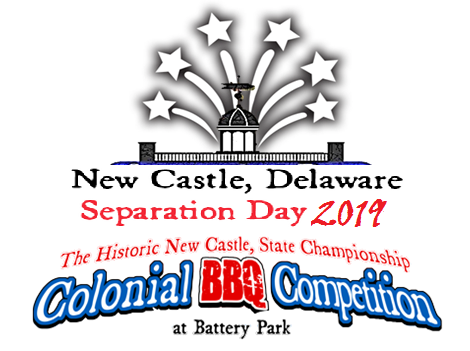 Separation Day & Colonial BBQ Competition* (Second Friday & Saturday in June)
Friday, June 7, 2019 6:00 – 9:30 p.m. Separation Day Kickoff Party
Saturday, June 8, 2019 11:00 Parade on Delaware Street
Saturday, June 8, 2019 Noon Colonial BBQ Competition Starts
Saturday, June 8, 2019 Noon in Battery Park, Music, Crafters, Rides, Food ending with a concert at 8:00 p.m. and Fireworks at 9:30 p.m.
This unique event celebrates Delaware's Birthday, when we "separated" from Great Britain and Pennsylvania on June 15th 1776.
Mark your calendars for Separation Day June 7 and 8. The weather is warming up and plans for another successful Separation Day are underway.
On Friday enjoy live music with Big Package, craft beer, wine and food trucks in a block-party setting in front of the historic New Castle Court House. Admission is free. Food and drink will be available for purchase with tips benefiting Minquadale and Good Will volunteer fire departments.
On Saturday, things get started with the Separation Day Parade at 11:00 a.m. Separation Day festivities in the park begin at noon and run til 6 p.m. Separation Day in Battery Park has an admission fee of $10 per adult. Those under 21 are free, children must be accompanied by an adult. Bands will play starting at noon. Barbecue, vendors and free rides for the kids highlight the event.
If you are a City of New Castle resident, you may obtain a wristband in advance for free admission to the event by visiting the City office, located at 220 Delaware St., between the hours of 8:30 – 4:30, beginning May 15th running through June 7th. In addition, a table will be set up at the Friday night Separation Day Kick-Off Party until 8:00 pm. You must bring a photo ID that validates your residency within the City. Wristbands are not transferable and everyone with a wristband should be prepared to be checked with an ID at the entrance on Saturday.
Bring a chair or blanket for the free music starting at 6 pm. The festivities culminate with fireworks over the DE River at 9:30 p.m. Sponsored by the State of Delaware. For more information go to www.separationdayde.com and www.newcastlebbq.com.