Community Services & Groups
Below is a list of Community Services and Groups that are available to the citizens of New Castle City.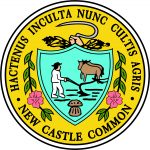 General Announcement of Trustee Election
Notice of Trustee Election – Trustee Election Information
There are two candidates: Francis DeAscanis and Karen Igou
The Trustees of the New Castle Common are holding an election to fill a vacancy on the Board.
Voting will be available at the Town Hall Building, 201 Delaware Street, on:
October 3rd, from 11 AM to 4 PM
October 4th, from 11 AM to 4 PM
October 5th, from 11 AM to 4 PM
October 6th, from 11 AM to 4 PM
October 7th, from 11 AM to 6 PM
October 8th, from 8 AM to 12 PM
Bring your driver's license or other form of ID. If you're not already registered to vote in Trustee elections, you can register and vote at the same time.
For anyone unable to vote in person, you can request a mail-in ballot by calling 302-322-2809. Requests will be accepted until 3 PM on September 29th.
Mail-in ballots must be notarized and must be received by the Trustees no later than 12 PM on October 8th, either through the mail or by drop-off. If mailing your ballot back to the Trustees, be sure to allow enough time to make this deadline.