Community Services & Groups
Below is a list of Community Services and Groups that are available to the citizens of New Castle City.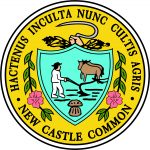 General Announcement of Trustee Election
The Trustees of the New Castle Common hereby announce an election to fill an open seat on its Board.
Voting is scheduled from October 3, through October 8th, at the Town Hall, 201 Delaware Street. Specific times for voting will be published at a later time in The Town Crier, The Weekly, and on the Trustees' website (www.trusteesncc.org).
To become a candidate in this election, you must apply to the Trustees of the New Castle Common at the office located at 807 Frenchtown Road, on the Penn Farm. Applications are now being accepted. Office hours are from 0 to 3:30, Monday through Thursday The deadline to file for candidacy is September 8, 2022. There's a non-refundable fee of $100 to file.
Candidates must be at least 25 years of age by October 8, 2022, and must be a continuous resident of the City of New Castle for at least two years prior, or since October 8, 2020.
For more information, call (302) 322-2809 or stop by.