Public Works
Recycle Questions
New Castle Recycles, if you have a question about what is recyclable or about Household Hazardous Waste or Electronic Goods Recycling evetns please call DSWA at 1-800-404-7080. Click here for the DSWA calendar with upcoming events in our area .
The Public W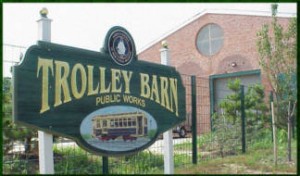 orks division is the largest division of the Public Services Department, employing 11 full time positions. Public Works is supervised by Public Works Supervisor George O'Neal. The Public Works division is responsible for the operation and maintenance of more than 20 miles of the City street system, plus solid waste collection at each City property three times per week: Mondays & Tuesdays: trash; Wednesdays: yard waste; Thursdays and Fridays: recycling. In conjunction with the Trustees, Public Works personnel maintain approximately 130 acres of parks and open space.
Additional services provided by Public Works include fall leaf collection, street sweeping, grass cutting, pavement marking, drainage maintenance and numerous other services to enhance the quality of life for the residents in the City of New Castle.
Seasonally, snow and ice control services are provided. During larger snow events, residents are requested to remove their vehicles from the street to allow for easier and more efficient snow plowing operations.
Maintenance of roadways and traffic and street signage are important tasks and we enlist the assistance of the general public in reporting conditions such as potholes or damaged street or traffic signs by calling 322-9813 or provide the information via email.
Department Roster:
George O'Neal – Supervisor
Keith Wilson – Foreman
Clifford Reaume – Equipment Operator
Wayne Cooper – Equipment Operator
Forrest Reiss – Mechanic
Gary Holmes – Laborer
Robert Ford – Laborer
Allen R. Cahall – Laborer
Brent Hurd – Laborer
James Pankowski, Jr. – Laborer
Special Trash Pick-Up:
Large and/or bulk items, such as refrigerators, dishwashers, TV's, sofas, etc., require a special trash pick-up. You may schedule a special trash pick-up by calling 322-9801 or click here to send an email message.
While we do our best to accommodate residents, special trash pick-up requests must be scheduled at least one business day in advance. Special pick-ups are done as part of the regular trash schedule—typically Monday or Tuesday.
If you have multiple items, construction/remodeling material or items not listed below please call 322-9801 for a price estimate. Tree limbs and yard waste removal is free (collected City-wide on Wednesdays.*) Hazardous Waste information and drop off locations can be found at DSWA.com or by calling 1-800-404-7080.
To ensure timely pick-up of your item, the request must be completed with payment by 4:00 p.m. one business day in advance of your normal trash day. Do not leave payment in drop box without previous authorization.
Example: If your normal trash day is on Monday, you would need to schedule and pay for your pick-up by Friday at 4:00 p.m.
Special Trash Pick-up Fees:
Refrigerator – $40.00
Dishwasher – $35.00
Stoves – $35.00
Washers – $35.00
Dryers – $35.00
Air Conditioners – $30.00
Hot Water Heaters – $30.00
Sofas – $25.00
Upholstered Chairs – $20.00
Mattress/Bed Springs
Single – $20.00
King/Queen – $22.00
Rugs & Carpets (per room charge) – $20.00
TV Set with Cabinet – $20.00
Dressers – $15.00
Barbecue Grills – $10.00
Sleeper Sofas – $35.00
All fees stated above, once paid to the City, are non-refundable.
Building and Public Works counter services, including Special Trash Pick-up forms, are available at the City Administration Building at 220 Delaware Street.
Office hours are 8:30-4:30 Monday-Friday. If you have questions, please call us at 302-322-9801.
Residents can come to the City office at 220 Delaware Street, or pay online with the form below
*Holidays may change schedule.