Events & Happenings
Special Events
The City of New Castle hosts many events throughout the year. Explore the links below for more information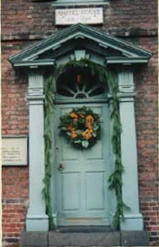 Holidays at the George Read House, and the Amstel and Dutch Houses
December 1st through December 30th.
The George Read House will be open for the Holidays. Once the largest house in Delaware this beautiful home has been carefully restored and is now a museum. The Read House will be decorated as it would have been in the early 1800's. For hours and information please call (302) 322-8411.
The Amstel House will be decorated for a traditional holiday celebration in colonial times, showing off a "dessert board" of the period, and featuring traditional 18th century customs during the period of Governor Nicholas Van Dyke's residency. At the Dutch House, experience a celebration of St. Nichols' Eve, a tribute to the legend of Saint Nicholas, Dutch patron saint. Included with regular admission to the museums. For hours and information please call (302) 322-2794 or go to www.newcastlehistory.org/
2020
Guest Bartender Night at Jessop's Tavern*
Jessop's Tavern
114 Delaware Street

New Castle Senior Center
Guest Bartender Night
Thursday, January 16th, 6:00-9:00 p.m. at Jessop's
Proceeds benefit the New Castle Senior Center.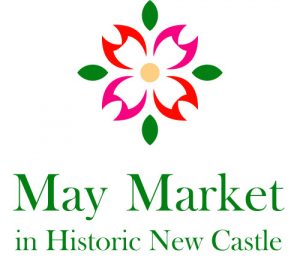 May Market* (First weekend in May)
Friday, May 1st & Saturday, May 2nd, 2020
​www.arasapha.org
Market Square – Behind New Castle Town Hall
201 Delaware Street, New Castle DE
Are you looking for the perfect plant for a special corner of your garden? Are you looking for a special herb plant for your kitchen, or something unique for your home? How about a bargain, or the perfect Mother's Day gift? You'll find all this and more at May Market, a New Castle tradition held on the first Friday and Saturday of May. Make this the start of a lovely day in historic New Castle. Come early for the best selection! Free expert gardening advice is available and credit cards are accepted. Proceeds benefit the gardens of New Castle's historic Amstel and Dutch Houses.
96th Annual A Day in Old New Castle*
Experience Life on the River: Pirates, Colonial Craftsmen, Open Homes & Gardens, and so much more.
Third Saturday in May

Historical Reenactments
Plundering Pirates
Colonial Craftsmen
Music, Performers
Open Museums
Tours of Rarely Open Homes and Gardens
Beer Garden on the Wharf
Deck tours of Tall Ships, as available (included with ticket)
and much more!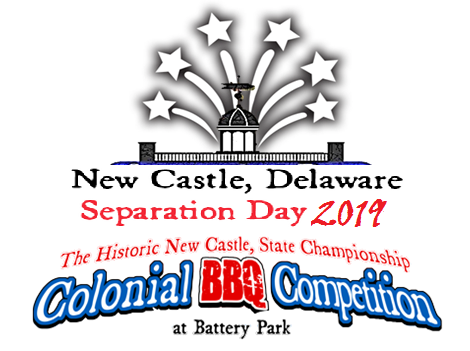 Separation Day & Colonial BBQ Competition* (Second Friday & Saturday in June)
Friday, June 12, 2020 6:00 – 10:00 p.m. Separation Day Kickoff Party
Saturday, June 13, 2020 11:30 Parade on Delaware Street
Saturday, June 13, 2020 Noon Colonial BBQ Competition Starts
Saturday, June 13, 2020 Noon in Battery Park, Music, Crafters, Rides, Food ending with a concert at 8:00 p.m. and Fireworks at 9:30 p.m.
This unique event celebrates Delaware's Birthday, when we "separated" from Great Britain and Pennsylvania on June 15th 1776.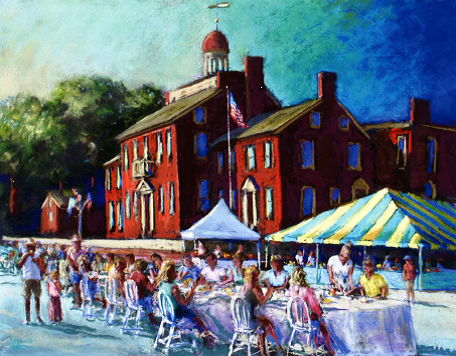 Summer Solstice
"Dining in the Street"*
"Dining in the Street" Join your friends at the Delaware Street wharf and enjoy the stunning Kalmar Nyckel tall ship and the Delaware River as your back-drop. In addition to the four-course Tuscan meal prepared by our local New Castle restaurateurs, the event will feature the Bullbuckers Band to provide music for dancing and entertainment. Tickets are $50 and can be purchased on www.eventbrite.com, just click on "Dining in the Street", tickets are also available at Jessop's Tavern and the New Castle Senior Center. Hurry, seating is limited.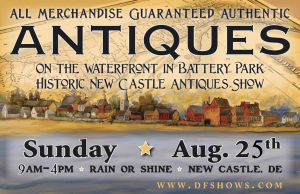 Outdoor Antique Show* (Last Sunday in August)
9:00 a.m. – 4:00 p.m.
Quality dealers from around the country will offer a variety of treasures including Americana, Folk Art, Furniture, Paintings, Prints, Decorative Accessories, Jewelry, Silver, Porcelains, and Lots More. This outdoor show held in Battery Park is sponsored by the Visitor's Bureau. For more information call 434.361.1770 or go to www.wheretobuyantiques.com.
Wednesday Night Summer Concert Series in Battery Park*
Wednesday Night Summer Concerts in Battery Park!

Free to the public, this is the hottest summer ticket from June to August!

Each week features a different food vendor, so don't cook – grab a beach chair or a blanket, the family and the dog and come on down to Battery Park in Old New Castle Wednesdays from 6:30-8:00 p.m.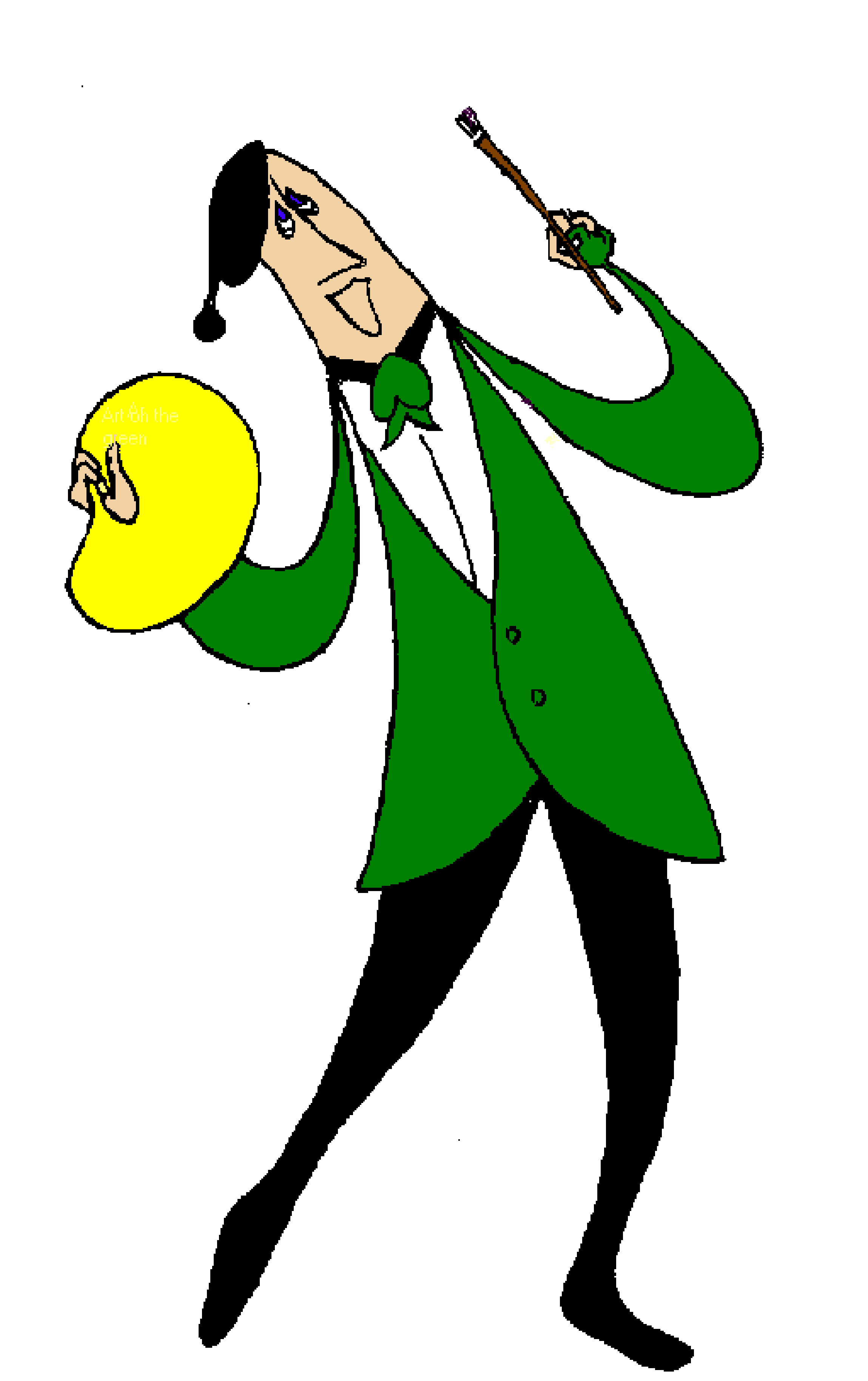 Art on the Green* (Fourth Saturday in September)
Saturday, September 26, 2020
50th Annual Arts & Crafts Show in Historic New Castle Delaware
Art on the Green is an annual Art & Craft Show in Historic New Castle Delaware
Started in 1970, it is the 4th Saturday in September, in Battery Park, on the scenic Delaware River.
Sponsored by the New Castle Hundred Lions Club. For more information visit www.artonthegreende.net
Rivertowns Ride and Festival* (First Saturday in October)
Saturday, October 5, 2019
The seventh annual River Towns Ride & Festival is a one-day joint festival held between the two historic Delaware waterfront towns of New Castle and Delaware City. There is no admission fee in either town and a complimentary shuttle bus can transport you between towns. This year's event will be held from noon-5pm on Saturday, October 5th. The traditional River Towns Bike Ride begins at 11am.
Festival activities include live music, rides, attractions, games, tours, vendors, food and drink.
Parking:
Free on-street parking is available throughout the City of New Castle. Please note that some parking spaces are time limited as noted on nearby signs. Additional parking lots are located off of Chestnut Street and Third Street, look for signs. Handicapped parking is available in front of the Trustees Building located at 201 Delaware Street.
Oak Knoll Book Fest is the first Saturday and Sunday in October (in even numbered years.) For details call (302) 328-7232. www.oakknoll.com/fest

Hauntings in History: Ghostly Walking Tours of Old New Castle
Every Friday and Saturday Night in October
Tours begin at 7:00, 7:30 and 8:30 pm
Beware of goblins, ghosts and poltergeists as you venture out on autumn evenings and discover the darker side of history by taking the only ghost tour of Old New Castle that brings you inside one of New Castle's most haunted mansions.
Walking tours begin at the historic Arsenal Visitor Center, and include a visit inside the legendary Amstel House, where you may glimpse the famous "Lady in Blue," who reportedly appears in an upstairs window dressed in a blue silk gown. In addition to visiting the Amstel House, you'll venture out into the dark, cool night to explore other New Castle myths and tales of the supernatural. Mixed in along with the stories will be plenty of New Castle history – including mourning and funerary practices, cases of murder and early examples of capital punishment.
Hauntings in History tours begin at 7:00, 7:30 and 8:30 p.m. on every Friday and Saturday night in October. Tours are held rain or shine and last approximately 75 minutes.
Tickets must be purchased in advance and are available online at website www.newcastlehistory.org or bit.ly/nchshauntingsinhistory19
These tours sell out quickly so reserve your tickets today!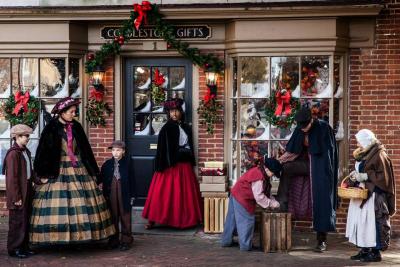 Spirit of Christmas (Citywide Event)*
Saturday, December 12, 2020
Presented by New Castle Presbyterian Church & the Visitor's Bureau
Tour historic homes and museums in Old New Castle decorated for the holiday season. Enjoy holiday concerts including Simple Pleasures (a cello, viola, flute and harp quartet) from 10 – 11 a.m., Hand Bell concerts at 1 & 1:30 p.m., and the New Ark Chorale at 3 p.m. Free to the public. For more information go to www.facebook.com/spiritofchristmasDE
New Castle Spirit of Christmas/Dickens Experience
Due to expected rain New Castle Historical Society has made a couple of changes to our planned activities.
They will be selling wreaths decorated by the Arasapha Garden Club in front of the Arsenal throughout the day. Stop by early to take home the perfect wreath.
They are moving the performances of "A Christmas Carol" inside the New Castle Court House Museum instead of using the band shell on Market Square – the performance times are the same….11:30 am and 2:00 pm.
The planned Victorian Marketplace outside the Arsenal has been cancelled due to the rain. Please be sure to visit all the wonderful shops and restaurants here in New Castle.
Fezziwig's Ball
The Arsenal in New Castle – 30 Market Street (on the Cobblestones)
Friday Night
The New Castle Arsenal transforms into the Fezziwig house from A Christmas Carol for one night. This Victorian Ball will have period music from Susquehanna Travelers , a Dance Master and assistants from the Victorian Dance Ensemble calling the dances and giving instructions, and refreshments. Period clothing is encouraged, but not required.
Tickets available by clicking here. A free dance rehearsal will be held prior to the ball. For tickets or more information please call (302) 322-2794 or go to www.newcastlehistory.org/
The New Castle Arsenal 30 Market Street (on the Cobblestones)
Saturday
As part of the Spirit of Christmas & Dicken's Experience enjoy a festive Victorian Tea at The Arsenal. For tickets or more information please call (302) 322-2794 or go to www.newcastlehistory.org/
*Annual Event