Events & Happenings
Special Events
The Kalmar Nyckel
New Castle is honored to host Delaware's Tall Ship, The Kalmar Nyckel several times a year during sailing season. The ship docks at the public pier in Battery Park. Check the city website and www.booking.kalmarnyckel.org for future sail dates.
New Castle is a home away from home for the Kalmar Nyckel. To book a sale, or tour the ship call 302-429-7447 or go online to www.booking.kalmarnyckel.org.
The City of New Castle hosts many events throughout the year. Explore the links below for more information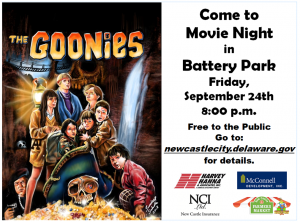 MOVIE NIGHT IN BATTERY PARK
"The Goonies"
Friday, September 24th, 2021
Movie starts at 8:00 p.m.
Free to the public
Please bring a flashlight
Art

on the Green*


This is their 50th Year!
Saturday, September 25th 10 a.m. – 4 p.m.


Annual Arts & Crafts Show in Historic New Castle Delawar

e

Art on the Green is an annual Art & Craft Show in Historic New Castle Delaware
Started in 1970, it is the 4th Saturday in September, in Battery Park, on the scenic Delaware River.
Sponsored by the New Castle Hundred Lions Club. For more information visit www.artonthegreende.net

First Saturday in October
Saturday, October 2nd 9 a.m. – 4 p.m.


The ninth annual River Towns Ride & Festival provides riders the opportunity to visit the historic riverfronts of New Castle, Delaware City and Wilmington while earning medals based on distance completed. This year's ride will be held Saturday, October 2nd beginning at 9 a.m.

Post-ride party held in Delaware City's Battery Park featuring live music, games, beer, food and non-alcoholic beverages. Free family festival taking place in Battery Park 1-5 p.m. featuring vendors, kids games & activities and FIREWORKS AT DUSK!.

Go to www.rivertownsfestival.com for more information.

Oak Knoll Book Fest will not take place this year, the first Saturday and Sunday in October (in even numbered years.) For details call (302) 328-7232. www.oakknoll.com/fest

Hauntings in History: Ghostly Walking Tours of Old New Castle

Fridays & Saturdays in October

Hauntings in History Walking Tours


If you are brave enough to explore the darker side of New Castle's history, then join the New Castle Historical Society this October for a journey into New Castle's supernatural side. You will be guided through New Castle's darkened streets and alleyways where you will hear macabre tales of hauntings, Victorian death & funeral customs, and crime & punishment that span the almost 370-year history of this Delaware River town.


Don't forget to Shop Small on Small Business Saturday

Shop Small this Saturday, November 28th and all season long. Our local shops have a wide variety of unique gifts, including our museum shops. Our restaurants and services offer gift certificates, which are always a great gift.

Arasapha Wreath Making Workshops: Help decorate Historic New Castle for the Holidays.
Every year, Arasapha members and volunteers participate in a beloved New Castle tradition: decorating all-natural wreaths that adorn the Historic District during the holiday season.

You can help decorate the wreaths, or make one for your own home for only $25. No talent or experience needed! Stop by whenever you can, and they will show you what to do. Just bring garden clippers. Arasapha also needs donations of evergreen clippings from local backyards. For more information, including our social distancing plan, visit www.arasapha.org/holiday-greening.

Tuesday, Dec. 1st, 10 a.m. – 4 p.m.
Wednesday, Dec. 2nd, 10a.m. – 7 p.m.
Thursday, Dec. 3rd, 10 a.m. -1 p.m.

Come and visit New Castle and see the houses decorated for the season.

New Castle Historical Society Announces

Holiday House Decorating Contest

The New Castle Historical Society is sponsoring "Dressed in Holiday Style," a holiday house decorating contest for residents of the City of New Castle. Open to all residents within the city limits, the contest will encourage exterior decorations, and award cash prizes in seven different categories: Best Overall Display, People's Choice, Best Vintage/Traditional, Best Historical, Best Themed Display, Best Lighting Display, and Best Entranceway.

A panel of three judges will decide the winners in each category except the People's Choice winner which will be selected through votes for photos of displays on the Historical Society's Facebook page. The top prize is $250 for Best Overall display.

Advance registration, including a $5 registration fee, is required to participate in the contest. Judging will begin on December 9th, and winners will be announced on December 12th. The People's Choice winner will be announced on December 28th to allow time for the public to vote. For more information and to register for the contest visit www.newcastlehistory.org or www.facebook.com/NewCastleHistory.


Spirit of Christmas *
Saturday, December 12, 2020
Presented by New Castle Presbyterian Church www.facebook.com/spiritofchristmasDE

Spirit of Christmas 2020

"A Way Home"

This Year's 20th Annual Celebration will be a quiet reflection on years past. Although they cannot open their doors to welcome you, New Castle Presbyterian Church hopes you will join them as they continue their support for their Friendship House mission, "A Way Home."

The church will be sharing recipes and offering a limited edition "print" as a thank you for your support. Visit newcastlepreschuch.org for more information. The City joins with NCPC in thanking the community of New Castle for your participation and support of Spirit of Christmas past!

Guest Bartender Night at Jessop's Tavern*
Jessop's Tavern
114 Delaware Street


New Castle Senior Center
Guest Bartender Night
Mid January

Proceeds benefit the New Castle Senior Center.

Annual New Castle Beach Clean Up!*
Sponsored by the New Castle Sailing Club
Check the New Castle Sailing Club website and Facebook page for updates about this event.
Everyone is Welcome!
(Rain or Shine)- More information will be coming soon.
Help clean up the winter debris from the Battery Park Beach area.
Groups and individuals are welcome to help pick up the trash and
debris that has accumulated this winter so we can enjoy this
beautiful park this season! Wear old sturdy shoes, and bring gloves
Gloves and trash bags will be provided. Volunteer Certificates will be available; social distancing and mask rules will be in place.

May Market* (First Friday & Saturday in May)

Market Square – Behind New Castle Town Hall
201 Delaware Street, New Castle DE

Are you looking for the perfect plant for a special corner of your garden? Are you looking for a special herb plant for your kitchen, or something unique for your home? How about a bargain, or the perfect Mother's Day gift? You'll find all this and more at May Market, a New Castle tradition held on the first Friday and Saturday of May. Make this the start of a lovely day in historic New Castle. Come early for the best selection! Free expert gardening advice is available and credit cards are accepted. Proceeds benefit the gardens of New Castle's historic Amstel and Dutch Houses. Social distancing and mask rules will be in place.

Annual A Day in Old New Castle* (Third Saturday in May)

Experience Life on the River: Pirates, Colonial Craftsmen, Open Homes & Gardens, and so much more.

Historical Reenactments
Plundering Pirates
Colonial Craftsmen
Music, Performers
Open Museums
Tours of Rarely Open Homes and Gardens
Beer Garden on the Wharf
Deck tours of Tall Ships, as available (included with ticket)
and much more!

Separation Day* Second Friday & Saturday in June

This unique event celebrates Delaware's Birthday, when we "separated" from Great Britain and Pennsylvania on June 15th 1776.

Wednesday Night Summer Concerts in Battery Park*

Annual Event – Wednesday night's from late June through mid-August
Free to the Public – 6:30 p.m.

The Concerts take place on Wednesday evenings, running from late June through mid-August. Grab your blanket or a chair for dinner and music in the park. Information is available at www.historicnewcastle.com.

Outdoor Antique Show*

Annual Event – Last Sunday in August
9:00 a.m. – 4:00 p.m.
Quality dealers from around the country will offer a variety of treasures including Americana, Folk Art, Furniture, Paintings, Prints, Decorative Accessories, Jewelry, Silver, Porcelains, and Lots More. This outdoor show held in Battery Park is sponsored by the Visitor's Bureau. For more information call 434.361.1770 or go to www.dfshows.com.

Dining in the Street *

This event benefits the New Castle Senior Center.
*Annual Event