Events & Happenings
Special Events
The City of New Castle hosts many events throughout the year. Explore the links below for more information
Help Decorate Historic New Castle at Arasapha's 60th Annual Wreath Workshop!
Help decorate over 100 wreaths that will adorn the New Castle Historic District's public buildings and businesses during the holiday season! No artistic talent needed! Bring garden clippers if you have them, and we'll show you what to do. Open Thurs. 11/30 12 noon-7 PM and Fri. 12/1 9 AM-12 noon at the Arsenal, 30 Market St. On Thursday evening or Friday, you can decorate a wreath for your home for only $30. You can also help by dropping off evergreen clippings from your yard on Wed. 11/29 behind the Arsenal. More info: www.arasapha.org/holiday-greening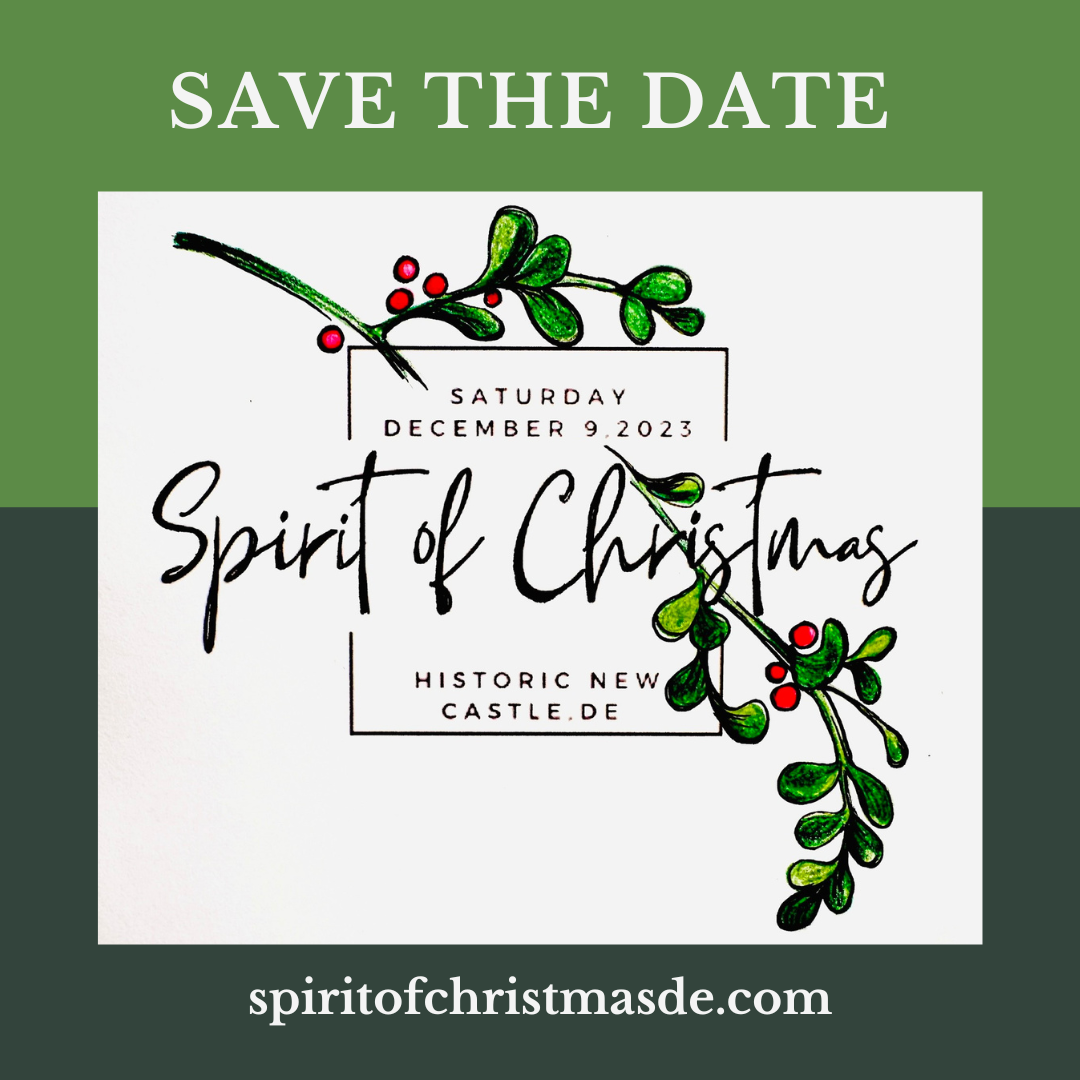 Spirit of Christmas Celebration
Saturday, December 9, 2023
Various Locations Throughout Town
The Annual Townwide Event Celebrating the Joy of Community & Holiday Spirit
Come and experience the magic of the holidays! Stroll through private homes decorated for the season, enjoy musical performances and street theater; find great gifts from unique vendors in the indoor Winter Market at the New Castle Public Library and outdoor Artisan Market on The Green; meet Santa & Friends; enjoy our wonderful restaurants; and join local officials and town residents for caroling and the annual Tree Lighting ceremony. It's all free, family friendly, and festive. Donations from the day benefit Friendship House of Wilmington, DE, working to end homelessness and houselessness. We look forward to seeing you! Visit spiritofchristmasde.com or Facebook for details.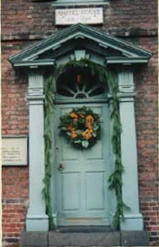 Come and visit New Castle and see the houses decorated for the season.
New Castle Historical Society
atTAcK addiction E-Racing the Stigma 5K/Rally*
Saturday, March 2nd, 2024
On 1st Saturday in March atTAcK addiction E-Racing the Stigma 5K/Rally comes to New Castle.
Visit their website for pictures of the 2022 atTAcK addiction E-Racing the Stigma 5K
Please note that there will be significant traffic restrictions and road closures in town during this event, so check back for updated information regarding traffic restrictions on that morning.
Mark your calendars! The Tall Ship Kalmar Nyckel is scheduled to stop in Historic New Castle. Dates are posted below and new dates will be posted as they become available. Discover the remarkable story behind the Kalmar Nyckel and Delaware's rich maritime history.
Delaware's Tall Ship, The Kalmar Nyckel will be offering Day sails from the Delaware Street Pier on the following dates.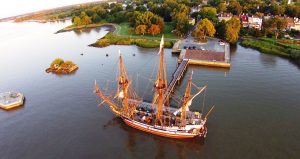 Wednesday 5/24 from 5:00 -7:30pm
Thursday 5/25 from 10:00am-12:30pm
Friday 5/26 from 12:00-2:30pm
Plus July 15-23 and August 26-September 4 on select dates
New Castle is honored to host Delaware's Tall Ship, The Kalmar Nyckel several times a year during sailing season. The ship docks at the public pier on Delaware Street. New Castle is a home away from home for the Kalmar Nyckel.
To book a sale, or tour the ship call 302-429-7447 or go online to www.booking.kalmarnyckel.org.
Annual New Castle Beach Clean Up!*
Saturday, April 20th 2024

The Annual Beach Clean is rescheduled for October 1st. Check the Sailing Club's website and Facebook for updated information.
Sponsored by the New Castle Sailing Club
Check the New Castle Sailing Club website and Facebook page for updates about this event.
Everyone is Welcome!

Help clean up the winter debris from the Battery Park Beach area.
Groups and individuals are welcome to help pick up the trash and
debris that has accumulated this winter so we can enjoy this
beautiful park this season! Wear old sturdy shoes, and bring gloves
Gloves and trash bags will be provided. Volunteer Certificates will be available; social distancing and mask rules will be in place.

Easter Parade
Easter Sunday, March 31, 2024 – 1:00 p.m. on The Green

The New Castle Hundred Lions will once again hold their annual Easter Parade on the Green.

Don't miss the candy, fun and prizes!

This New Castle tradition is sponsored by the New Castle Hundred Lions Club.

Arasapha May Market
Friday, May 3rd & Saturday, May 4th 2024

Market Square – Behind New Castle Town Hall
201 Delaware Street, New Castle DE

Looking for the perfect plant for your garden? A special herb for your kitchen or a unique bargain for your home? How about a Mother's Day gift? You'll find all this and more at May Market, a New Castle tradition celebrating its 80th Anniversary in 2022. Come early for the best selection and stay for a lovely day in Historic New Castle! Free gardening advice is available and credit cards are accepted. Proceeds benefit the gardens of New Castle's historic Amstel and Dutch Houses and support Arasapha programs.

Annual A Day in Old New Castle* Third Saturday in May: May 18th, 2024

Experience Life on the River: Pirates, Colonial Craftsmen, Open Homes & Gardens, and so much more.

Historical Reenactments
Plundering Pirates
Colonial Craftsmen
Music, Performers
Open Museums
Tours of Rarely Open Homes and Gardens
Deck tours of Tall Ships, as available (included with ticket)
and much more!

Separation Day

Friday and Saturday of June 7th and 8th, 2024

Friday Night Kick Off Party (6-9 p.m.)

Enjoy live music, beer, wine, seltzers and non-alcoholic drinks along with food trucks in a block-party setting. Admission is free. Food and drink will be available for purchase with tips benefiting New Castle's Minquadale and Goodwill volunteer fire departments. Featured performer: Too Tall Slim & The Guilty Pleasures (Classic Rock Covers & Originals)

Separation Day Parade (Noon Start)

Progresses along Delaware Street and culminates at the review stand in front of the Courthouse. This Colonial-inspired parade features re-enactors, bands, dance teams, classic cars, local sports teams and non-profits.

Family Festival (1 p.m. Start)

Something for everyone in Battery Park featuring live music, games, kid's rides, exhibitors, food & drink, beer garden featuring craft beer, wine & seltzers. Admission free. Food, drink & ride tickets available for purchase.

Vintage Market (1 p.m. Start)

Offering festival attendees an array of vendors with different talents and passions. These vendors range from pickers, makers, shop keepers, collectors, small businesses, bakers, chefs, organic product specialists, craftsman, seamstresses, creatives that work hard to bring you a handmade and one-of-a-kind item, musicians, crafters, artists and hustlers who work so hard to offer a great product. Whether it is, handmade, hand-painted, up-cycled or found, vintage market vendors all share the love of mixing old and new to create something completely unique to their brand and shoppers.
Live Music (2 p.m.-9:30 p.m.):
Bands will be performing on Separation Day's Main Stage from 2 p.m. until the fireworks at 9:30 p.m. See schedule above.

o 2-3:30pm – Stone Shakers (Unique Twist on Classics, New Covers & Originals)

o 4-5:30pm – Jack in the Back (Upbeat Classic Rock)

o 6-7:15pm – Kategory 5 (Covers of Classic Rock, Blues, R&B)

o 8-9:30pm – What The Funk (High-energy Funk Band)

Fireworks:
Spectacular display over the Delaware River beginning at 9:30 p.m. Bring your own blanket and chair.

Wednesday Night Summer Concerts in Battery Park*

Wednesday night's from late June through mid-August
Free to the Public – 6:30 p.m.

The Concerts take place on Wednesday evenings, running from late June through mid-August.

Grab your blanket or a chair for dinner and music in the park. Information is available at www.historicnewcastle.com.

6/14/2023 Swing That Cat Jazz Band
6/21/2023 Witchdoctors – CANCELLED
6/28/2023 Newark Community Band
7/12/2023 Seven Rings
7/19/2023 Tony Cimorosi & Friends
7/26/2023 Club Phred
8/2/2023 Jimmies's 80's Tribute Band
8/9/2023 Ashley Sweetman & Friends
8/16/2023 FINN

Outdoor Antique Show* This event has been cancelled
Sunday, August 27th 2023
9:00 a.m. – 4:00 p.m.
Quality dealers from around the country will offer a variety of treasures including Americana, Folk Art, Furniture, Paintings, Prints, Decorative Accessories, Jewelry, Silver, Porcelains, and Lots More. This outdoor show held in Battery Park is sponsored by the Visitor's Bureau. For more information call 434.361.1770 or go to www.dfshows.com.

Annual Fall Car & Motorcycle Show

Saturday September 16, 2023, 9a.m. to 2p.m.

This show is held annually at Bellanca Airport Museum, 2 Centerpoint Blvd, New Castle, DE 19720

There is free parking for spectators and no entry fee for visitors.

Awarding 1st, 2nd and 3rd for the following marque classes; Triumph, MGB, Other MG, Austin-Healey, Jaguar, Other British Sports Cars, Other British Vehicles, Future Classics (<25 yrs), British Motorcycles. Special Awards: Diamond in Rough and Best in Show.

British Car Club of Delaware, Inc.

Art on the Green* Saturday, September 28, 2024
Annual Arts & Crafts Show in Historic New Castle Delaware

Art on the Green is an annual Art & Craft Show in Historic New Castle Delaware
Started in 1970, it is the 4th Saturday in September, in Battery Park, on the scenic Delaware River. Sponsored by the New Castle Hundred Lions Club. For more information visit www.artonthegreende.net

This is the 2nd year for this event. VIP and general admission tickets, 30+ varieties to taste. Music by Finn, 1 p.m. – 4 p.m. Tickets are available at www.historicnewcastle.com

BLOCK PARTY!

September 24, 2023 – 3:00 pm to 8:00pm

The New Castle Senior Center in partnership with the Mercury Cafe and Tea House is having a Block Party on the Green, Sunday, September 24, 2023 (rain date Oct. 1) from 3:00pm to 8:00pm. Bring a covered dish to share with your table and participate in a live art auction with art donated by your favorite local artists. There will also be live music and a cash bar. Help support you local Senior Center and welcome in Fall with your neighbors. Tickets are $25/person. Tables seat 8. Picnic style tickets are $5/person, though tickets are limited. Tickets available on Eventbrite beginning August 1. Dining in the Street will return next year. Buy Tickets Here!

River Towns Ride & Festival rescheduled for Saturday, October 12th 2024 beginning at 9 a.m.


The 11th annual River Towns Ride & Festival provides riders the opportunity to visit the historic riverfronts of New Castle, Delaware City, Wilmington and Chesapeake City, Md. (NEW THIS YEAR!) while earning medals based on distance completed. Post-ride will be held in Delaware City's Battery Park featuring live music, beer, food and non-alcoholic beverages.

William Penn Day, Celebrating the 291st landing of William Penn in New Castle

Saturday, October 29th, the New Castle Court House Museum, located at 211 Delaware Street in New Castle, Delaware, will present "William Penn Day," a day-long series of activities commemorating the 290th anniversary of William Penn's Oct. 27, 1682 disembarkment at New Castle, his first landing in the New World.

Admission for all programs is free and open to the public. For additional information, call 302-323-4453.

William Penn Day, celebrating the 1682 landing of William Penn in New Castle.

Oak Knoll Fest

Oak Knoll sponsors a festival devoted to the book arts and fine printing held in New Castle. Started in 1994, it brings together letterpress printers and book artists, and encourages the artists themselves to represent their work to the public. Held the first weekend in October in even numbered years the festival has typically included: two days of the fine press bookfair, an Oak Knoll bookshop sale, and lectures on Saturday and Sunday mornings.

Wednesday October 30, 2024 6:30 p.m. (Tentative Date)
New Castle Hundred Lions Club Annual Halloween Parade
Parade lineup starts at 6:00 p.m. at St. Peters School parking lot. Cash Prizes.
A New Castle Tradition Sponsored by the New Castle Lions Club.

Saturday, Oct. 28th – 12 – 3 p.m.

Good Will Fire Company Open House

Don't miss Good Will's annual Open House. October is also fire prevention month, Good Will reminds everyone to test their smoke detectors to ensure they are working properly; working smoke alarms are a critical element of home fire safety.

Fridays & Saturdays in October Hauntings in History: Ghostly Walking Tours of Old New Castle*

Hauntings in History Walking Tours


If you are brave enough to explore the darker side of New Castle's history, then join the New Castle Historical Society this October for a journey into New Castle's supernatural side. You will be guided through New Castle's darkened streets and alleyways where you will hear macabre tales of hauntings, Victorian death & funeral customs, and crime & punishment that span the almost 370-year history of this Delaware River town.


Visit the New Castle Historical Society's website for more information on this and their other events and exhibits.

Don't forget to Shop Small on Small Business Saturday

Shop Small Business Saturday 11/30 and throughout the year. Our local shops have a wide variety of unique gifts, including our museum shops. Our restaurants and services offer gift certificates, which are always a great gift.
*Annual Event