Parks and Recreation
2020 Battery Park Half-Day Summer Camp Program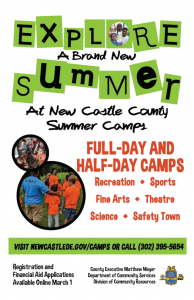 New Castle County Summer Camp Guide
Battery Park Camp
June 22, 2020 – August 28, 2020
Monday – Thursday 8:30 a.m. -12:30 p.m.
10 Weekly Sessions
$40 a week
Ages 5-12
Expanded by popular demand!
Half-Day Summer Camp Program in Battery Park grows to 10 weeks.
Once again this year the City of New Castle is partnering with New Castle County to offer a Half-Day Summer Camp Program right here in Battery Park. Campers will enjoy supervised games, fitness and nature activities, and more! It has been such a success that it is growing to 10 a week program. This camp offers an opportunity for children to participate in a fun-filled morning program at Battery Park. It is open to all children between the ages of 5 and 12 who reside within the City limits.
A nutritious breakfast and lunch from the Colonial School District Nutrition Program is served each day at camp and is free of charge. This is an outdoor camp; campers will need to arrive with sunscreen applied and appropriate clothing and sneakers. In case of extreme inclement weather, campers will seek shelter in the New Castle Presbyterian Church located at 25 East 2nd Street, New Castle.
Registration Form*
Registration forms are also available at the City Administration office, 220 Delaware Street.
2019 New Castle County Camp Guide Coming Soon.
Summer Recreation Program Rules:
Parents, please go over the following rules with your child before he/she begins the Summer Recreation Program.
Campers will be required to wear tennis shoes (toes and feet enclosed) no sandals or flip flops permitted.
Campers must wear camp appropriate clothing (appropriate length shorts and shirts.) Camper must wear sun screen and bring a water bottle and sunscreen (for reapplication) daily to camp.
Children must follow all rules and regulations given by the counselors.
Children must behave appropriately. The Recreation Supervisor will notify parents if there is a problem. If a problem persists, the child will lose recreational privileges.
Children should obey counselors and stay with them on all trips at all times.
Verbal abuse or inappropriate language by the children is not acceptable.
If you have any problems with specific parks, personnel or personnel actions, please call (302)322-9812 to voice any comments or concerns.