Public Services
Public Services counter services are located at the City Administration Building at 220 Delaware Street.
Office hours are 8:30-4:30 Monday-Friday.

Building Department
Jeffrey A. Bergstrom
Building Official and Fire Marshall
Office: (302) 322-9813
Fax: (302) 323-2144
jbergstrom@newcastlecity.delaware.gov
Marika Levine
Building & Code Secretary
220 Delaware Street
New Castle, DE 19720
Office: (302) 322-9801
Fax: (302) 322-9814
mlevine@newcastlecity.delaware.gov
*City Buildings are closed to the public during the Covid-19 crisis, please call 302-322-9801 for services.
Anyone requesting a Building Permit, Business License, Rental License, Historic Area Commission Review, Special Trash Pickup, Code Violation Form, No Parking Requests or other services can obtain assistance or make payments here*.
All walk-in services except police matters will now be available in one location to make it more convenient for citizens and businesses.
Business License Required:
Any business located in the City of New Castle, or any contractor or service provider doing business within the City of New Castle, must obtain a New Castle City Business License.
For more information contact the Building & Code Secretary (above.)
Rental Housing Business License Required:
Any City property owner/landlord with residential rental housing units must obtain a Rental Housing Business License.
For more information contact the Building Code Tech (above.)
Building Department Forms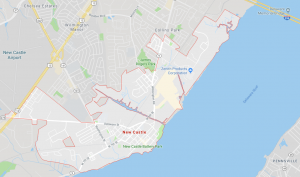 If your business is located within the incorporated city limits of the City of New Castle, or you do business within the City Limits you are required to obtain a City of New Castle Business License each year. If you have any questions about whether your location is inside the incorporated City limits please call 302-322-9801 before applying for any license. (Map of City Limits)