Dining in the Street
06/21/2018 - 06:00 PM
Location: Town Hall Area
Address: 201 Delaware Street
New Castle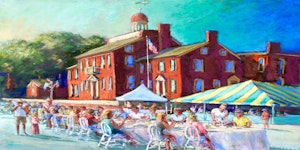 Dining in the Street
Proceeds to benefit the New Castle Senior Center
June 21, 2018 from 6:00 p.m.
A unique opportunity to dine in the actual street of Historic New Castle and enjoy a four course dinner prepared by area restaurants- soup, salad, main course and dessert!!!
First Course – Jessop's Tavern – Mushroom Cilantro Soup 
Second Course – Cafe New Castle –  Poached Pear Mixed Greens Salad with Balsamic Vinaigrette Dressing
Third Course – Nora Lees French Quarter Bistro – Cancun Chicken with rice
Fourth Course – Trader's Cove – Signature Espresso Brownies served warm with Whip Cream and dusted with cocoa
Time: 6pm-10pm. Cocktails and hor d'oeuvres 6-6:30pm.
Tickets: $50/ticket
Seating is limited to 200. Ages 12 and up.
Guests bring their own china and silver. There will also be a decorating contest, so bring your unique table decor! Each table seats 8. Cash bar with beer, wine, and specialty drinks. Glassware will be provided.
Featuring food from Jessop's Tavern, Nora Lees French Quarter Bistro,Cafe New Castle, Trader's Cove, and Wheely's Cafe.
Rain Date: 6/28/18
Featuring live music by The Rob Zinn Band
The Rob Zinn Group is a Delaware-based jazz, funk and r&b band. The band is led by national recording artist and composer, Rob Zinn, on trumpet and flugelhorn. Rob's music has been a consistent top 50 on many smooth jazz charts, and his new album, "Walk the Walk," will be released early this year. The band also features Tom Palmer on piano, Wes Morton on drums, Samuel Nobles on bass, and Larry Spencer on saxophone, all of whom compose, teach, and perform in various projects around the Delaware area. As a whole, the Rob Zinn Group has performed in several regional festivals, including the Clifford Brown Jazz Festival, and they also regularly perform in many Delaware clubs and restaurants. For more info on the group, please visit 
www.robzinn.com
.