Meetings & Events
Wednesday Night Summer Concerts in Battery Park – Club Phred
08/08/2018 - 06:30 PM
Location: Battery Park
Address:
New Castle

Wednesday Night Summer Concert Series in Battery Park – 6:30 p.m.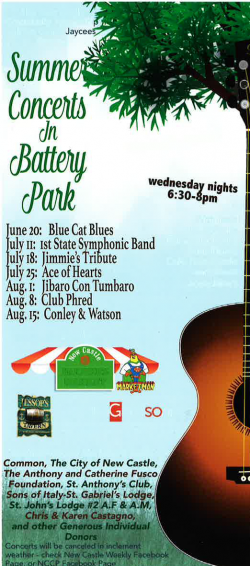 Free to the Public
Concerts take place on Wednesday evening in Battery Park, running from June until August.
Grab your blanket for dinner and music in the park. Different food trucks available each Wednesday night
Hosted by: The New Castle Community Partnership & the New Castle Jaycees
Wednesday Evening Concerts in Battery Park
Concerts will be canceled in inclement weather – check back here, or on the New Castle Weekly Facebook Page, or NCCP Facebook Page
Sponsored by: The Farmers Market, Jessop's Tavern, The Garrison & The Trustees of the New Castle Common, The City of New Castle, The Anthony and Catherine Fusco Foundation, St. Anthony's Club, Sons of Italy-St. Gabriel's Lodge, St. John's Lodge #2 A.F & A.M, Chris & Karen Castagno, and other Generous Individual Donors.