Meetings & Events
Historic Skipjack Sigsbee sails are cancelled due to high wind, but free deck tours are still being given.
10/21/2018 - 12:00 AM
Location: Delaware Street Wharf
Address: 1 Delaware Street
New Castle, DE 19720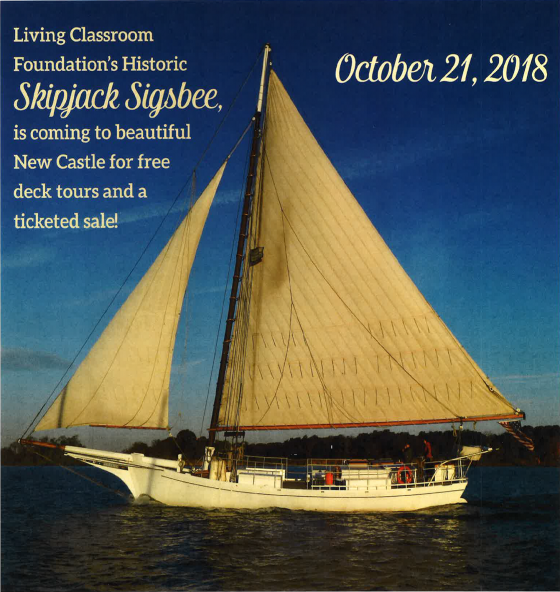 Date: Sunday, October 21st
Free Deck Tours from 11:30 a.m. -2:00 p.m. Deck Yours are still available.
Family-Friendly Sail Time: 2:00 p.m.- 4:00 p.m. Sails are cancelled due to high wind.
Ticket cost: $15 Kids, $25 Adults, $20 Seniors. Capacity is limited. 
Enjoy a relaxing afternoon at Battery Park and sail from the peaceful, historic port city of New Castle. Help the crew raise the sails and navigate the boat, enjoy some science activities or just relax with your own libations and enjoy the tidal river sounds and vistas. You are welcome to bring your own food and drinks. Reservations are a must.
Sigsbee is visiting New Castle as a part of the boat's education mission while visiting with PA, DE and MD schools. All money generated will go to underwrite the boats educational programs.
Visitors with limited mobility will be accommodated as best as we can. Due to its historic design, this Chesapeake Skipjack is not ADA accessible below decks.
Click here to purchase tickets: