4th Annual River Towns Ride & Festival & River Towns Street Closure and Parking Information
Date Posted: Thursday, October 13th, 2016

Celebrating Historic New Castle & Delaware City

The fourth annual River Towns Ride & Festival is a one-day joint festival held between the two historic Delaware waterfront towns of New Castle and Delaware City. This year's event is being held on Saturday, October 15th, from 11:30 a.m.- 5:00 p.m.

The two towns are 10 miles apart and connected by the bike-friendly corridor of Route 9. Therefore, the event will feature a bicycling component that will have riders cycling between the two destinations. Competitive cyclists will be encouraged to participate in the River Towns Time Trial for cash and prizes while recreational cyclists can pick their distance and ride for fun or to earn a distance medal. The ride is open to ALL ABILITY LEVELS.


While cyclists traverse between the two towns, festivals will be held in each town's main square: The Green in Historic New Castle and Battery Park in Historic Delaware City.
Activities include live music, rides, attractions, games, tours, vendors, food and drink.

A highlight of the event will be a craft beer festival held in each town from noon until 5pm. More than a dozen craft breweries will be participating

Map of street closures and No Parking areas.  Click on the map to enlarge.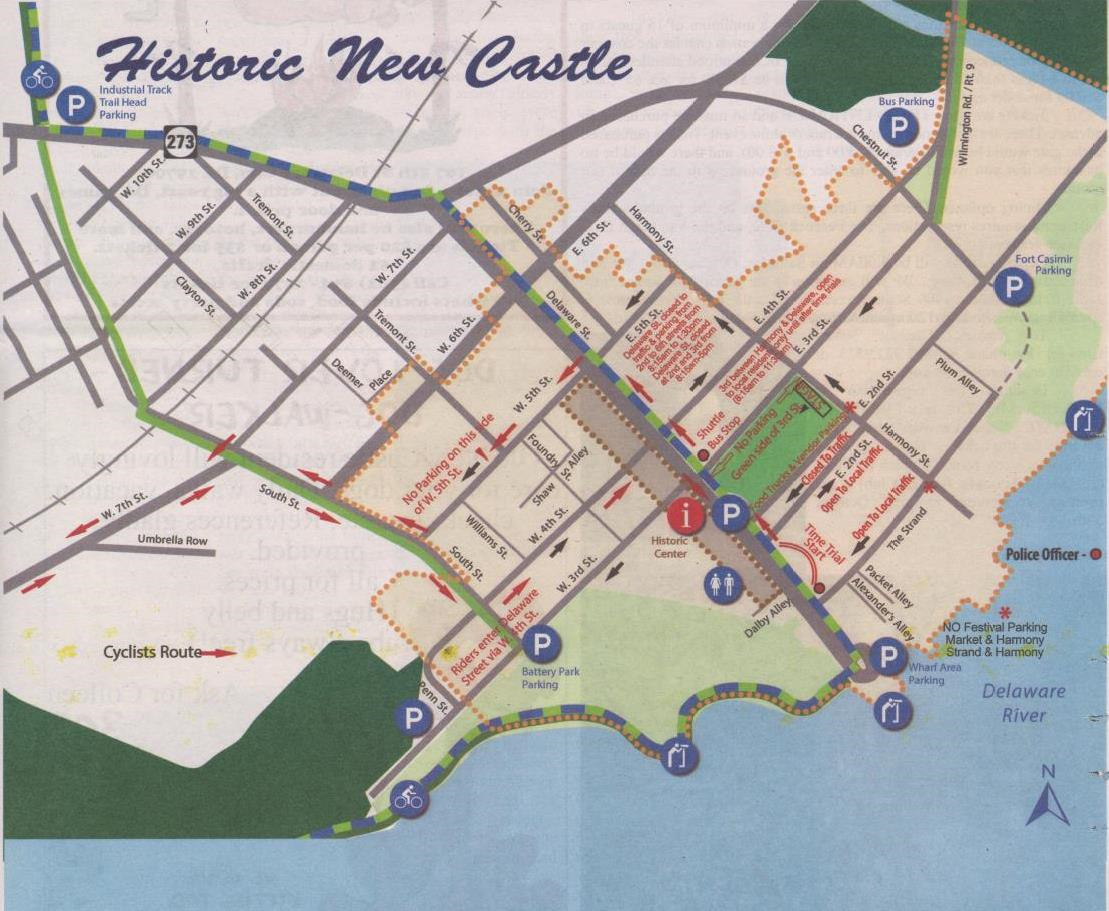 Delaware Street closed to traffic & parking from 8:15 a.m. to 1:30 p.m.
Delaware Street closed at 2nd & 3rd from 8:15 a.m. to 5:00 p.m.
East 3rd Street open to local residents only until 11:30 a.m.
No Parking on the Green side of East 3rd Street, between Harmony and Delaware Streets.
No Parking on the west side of West 5th Street
Market Street will be closed to traffic.
Tags: Beer Fest, Bike Race, Delaware City, New Castle, River Towns Ride & Festival