DELAWARE STREET PROJECT UPDATE
Date Posted: Tuesday, January 7th, 2020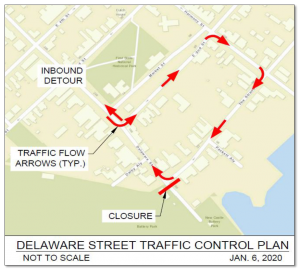 *** UPDATE *** Because of the weather, projected freezing temperatures in the early part of next week, construction at the wharf will not begin until Thursday the 23rd.
(Weather Permitting) the contractor for the City – Cirillo Brothers – will start the first phase of construction work at the wharf.
The City will close Delaware Street from The Strand to the wharf during this phase of construction. The sidewalks will remain open for pedestrian use.
Cars will be detoured on Delaware Street from Second Street to Harmony to The Strand, with Delaware Street being one way from The Strand to Second Street.
This phase of construction is estimated to be approximately 6 weeks in duration.
Please contact the City office at 322-9801 with any questions or concerns.

We will provide updates as they become available.