Meetings & Events
New Castle Library Friends' Separation Day Book Sale
06/08/2019 - 09:00 AM
Location: New Castle Public Library
Address: 424 Delaware Street
New Castle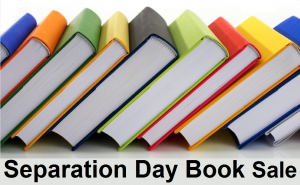 New Castle Library Friends'
Separation Day Book Sale
The always anticipated Friends' annual book sale will be held on Separation Day,
June 8th from 9:00 a.m. to 3:00 p.m.
There is a large selection of hard cover and paperback books;
fiction, and non-fiction, as well as DVDs, CDs, and audio books.
Whatever your interest or passion, you are sure to find a book on the topic!
Non-fiction books will be located in the Library Conference Room along with
collectibles/nostalgia books, and specially priced books.
Fiction, teen, children's, DVDs, CDs, and audio books will be outside the Library.
Raffle Returning This Year!
Gift baskets containing interesting used books with related items, such as gift certificates for Cafe New Castle or Leon's Garden World, or two (2) tickets to the Delaware Shakespeare Festival.
Also this year, a beautiful 60"x80" handmade quilt, a signed photo by Bruce Burk, handmade garden markers by Gigi & Cat, high end yarn, art supplies, the list goes on and on…
The baskets can be viewed currently in the display windows at the front entrance of the Library, and tickets are being sold through June 8th at the reference desk.
The drawing will take place on Separation Day, June 8th at 3:00.
You need not be present to win.
Post-Separation Day Book Sale
Monday, June 10th, Post-Separation Day Book Sale
in the Library Conference Room
all remaining books will be sold at $7.00 per bag
The hours are 10:00 a.m. – 8:00 p.m.